---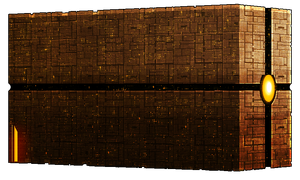 Level 11
---
Brief Explanation
The 7474 Ship or better known as "The Cube" is a ship that costs 7,400 Starbux

. It is the most expensive ship so far in the game and, despite the outer view, its layout is similar to a longer "[". Once bought, you can still switch back to your other ships (With One Hour Delay).
Summary
Statistics
7474

"The size of a small planetary city. This massive vessel is capable of supplying everything necessary for galaxy conquest."
Level
HP
Grids
Capacity
Upgrade
Minerals

Gas

Cost

Time
11
25
224
30K
30K
7.4K
1w 5d
---
Starter Faction Ships
Pirate Faction: Pirate Ships • Pirate Scavenger Ships • Pirate Vindicator Ships
Federation Faction: Federation Ships • Federation Assault Ships
Qtarian Faction: Qtarian Ships • Qtarian Hybrid Ships
---
Purchasable Faction Ships
---
Holiday Ships (Ordered By Date)
BWR Ship • Turkey Ships • Horizon Ships • Santa Ships
---
Other Ships
7474 Ship • Ardent Protector Ships • Golden Armada Ships • Dish Ships • Oracle Ships • Unobtainable Ships • Starbases
---
Community content is available under
CC-BY-SA
unless otherwise noted.