---
What Are Fleets?
Fleets play a major role in Pixel Starships. Up to 100 players can join together and form a group that provides numerous perks to its members. Members of a Fleet can lend and borrow Crew, talk in a member-only Fleet Chat, participate and obtain rewards in the Tournament's Fleet Division, and create/dock in their Fleet's Starbase.
To join a Fleet, the player first must build a Fleet Council. After that, he/she is able to find a public or private Fleet to join. Public Fleets automatically accept players wanting to join while Private Fleets need to approve players before they can join. The player can also create their own Fleet by paying 100K Minerals

.
Fleet Guide
The Fleet the player ultimately ends up joining can have a lasting impact, so knowing what Fleets to avoid and what Fleets to join is very helpful. Players shouldn't join 1 player Fleets nor inactive Fleets because most of the time, barely anyone will be online. Instead, the player should look around in-game or through external sources to find an active Fleet he/she belongs in.
If one is looking to create a Fleet, they definitely have a lot of work to do. Getting active members can be hard by purely advertising in global chat, so having friends and access to external Pixel Starships chats can help. However, having many inactive members, spamming a person's private messages with Fleet adverts, or being rude and unfriendly can net a bad reputation for the player's Fleet. Avoid this at all costs.
Fleet Ranks
Rank Privileges
| Rank | Edit Fleet | Accept Applications | Kick Members | Promote Members | Demote Members | Borrow/Lend Crew | Edit Borrowed Crew AI | Orange Border Color | Visit Starbase | Enter Starbase |
| --- | --- | --- | --- | --- | --- | --- | --- | --- | --- | --- |
| Fleet Admiral | | | | | | | | | | |
| Vice Admiral | | | | | | | | | | |
| Commander | | | | | | | | | | |
| Major | | | | | | | | | | |
| Lieutenant | | | | | | | | | | |
| Ensign | | | | | | | | | | |
| Candidate | | | | | | | | | | |
Rank Mechanics
Fleet members that can kick/demote others can only do so to members with a lower rank than theirs. For example, a Commander can kick/demote a Major, but they cannot kick/demote a Vice Admiral. Fleet members that can promote others cannot promote members to their role or a role higher than their role. For example, a Commander can promote a Lieutenant to Major, but they cannot promote a Major to Commander.
New Members

When a player joins a Fleet, they will have a "New Member" icon next to them for 7 days. If a Tournament ends during this period, new members will only receive a portion of the reward normal members receive.
Inactive Members

Fleet members who haven't logged on in two weeks will have an "Inactive" icon next to them until they log back on. During this time, the Trophies

of the inactive members stop counting towards the Fleet's Division rank during Week 3 of the Tournament.
Fleet Customization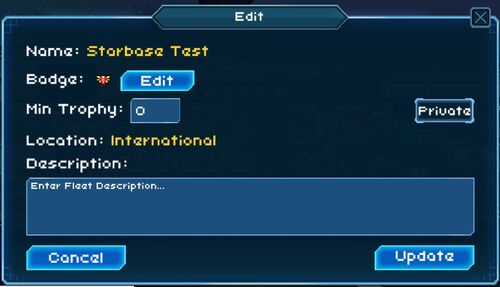 Badge
Badges will determine a Fleet's logo and will appear on every members' starship.
Min. Trophies
Minimum Trophies sets a Trophy minimum players must reach before they can apply to the Fleet. The minimum can go from 0 to 9,999.
Location
This is set automatically by the game. If all members are from a certain country, that's the Fleet's location. If members come from two different countries, the location is set to international. Location determines what Fleets are first shown to players when they view all Fleets. The player's region is prioritized over others.
Description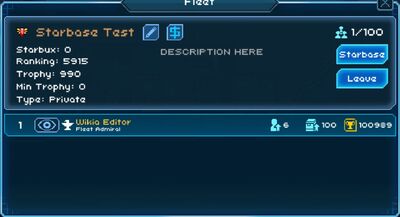 A Fleet's description can be viewed by everyone. Usually, important information like how to apply or what the Fleet does are put in the Fleet description.
Fleet Privacy
A Fleet's privacy determines if it's a public or private Fleet. Public Fleets automatically let members in if they apply while Private Fleets have to manually accept applying players.
Additional Information
Click here to learn more about lending and borrowing Crew.
Click here to learn more about how to search up Fleets.
Click here to learn more about Starbases.
---
Game Features
Resources • Fleets • Tournament • Starship Researches • Starbase Researches • gBay • Day Trader • Collector Bot 3K • Supply Chain Automation
---